Title IV of the Social Security Act provides federal funding for child welfare programs. Learn more about these two specific options.

Title IV-B Funding Overview
Title IV-B ties well with tribal family engagement practices. Designed around prevention and early intervention, the two subparts of 
Title IV-B aim to:
keep families together by supporting preventive intervention, alternative placements, and reunification efforts; and
address family support, family preservation, time-limited family reunification, and adoption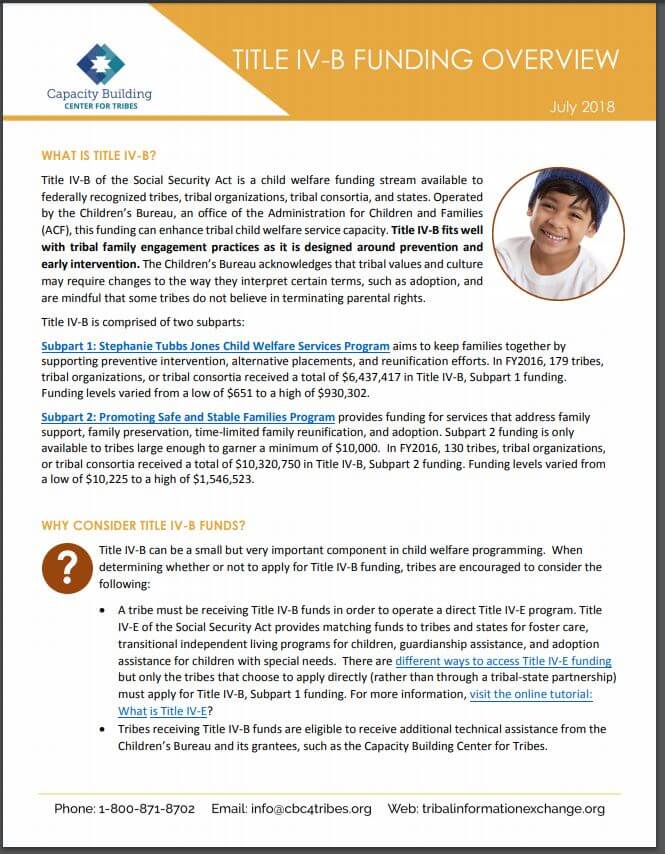 Title IV-B Subpart 1 Program Purpose
Funds under this program may be used for:
protecting and promoting the welfare of all children;
preventing the neglect, abuse, or exploitation of children;
supporting at-risk families through services which allow children, where appropriate, to remain safely with their families or return to their families in a timely manner;
promoting the safety, permanence, and well-being of children in foster care and adoptive families; and
providing training, professional development and support to ensure a well-qualified child welfare workforce.
Title IV-B Subpart 2 Program Purpose
Funds under this program may be used to support services in the following four areas:
Family Preservation,
Family Support,
Family Reunification, and
Adoption Promotion and Support Services
Capturing Title IV-B Data with Excel
Basic Excel Skills: Beginner Refresher
Basic Excel Skills: INTERMEDIATE Refresher
Building an Intake Spreadsheet
USING DROP-DOWN LISTS FOR DATA ENTRY
INTRODUCTION TO EXCEL FORMULAS
BASIC EXCEL FORMULAS FOR REPORTING
USING FORMULAS: BEYOND REPORTING
DISPLAYING DATA WITH EXCEL CHARTS
NEXT STEPS FOR USING DATA
NEXT STEPS FOR BUILDING DATA CAPACITY
BUILDING YOUR INTAKE SPREADSHEET
DROP-DOWN LIST REFERENCE GUIDE
BASIC GUIDE TO EXCEL FORMULAS
FORMULAS FOR COUNTING KIDS
DISPLAYING DATA WITH EXCEL CHARTS
Title IV-E
Title IV-E provides partial reimbursement to federally recognized tribes for the care of eligible children based on claims that primarily include foster care, adoption assistance, and guardianship assistance.
There's a lot to think about when exploring whether or not accessing Title IV-E funds is right for a tribe. Tribal Governments and Leaders play a unique role in this exploration and may benefit from learning from others who have taken this journey before.
Title IV-E Options for Tribes
View the presentation given at the "Pathways to Title IV-E Meeting" on
October 23-24, 2018 in Albuquerque, New Mexico.  
Contact the children's bureau for additional support and guidance